Neyra PolyPro
Asphalt Pavement Sealer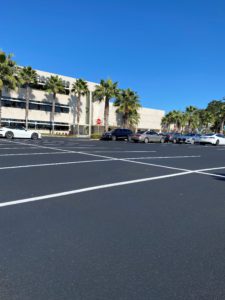 Neyra PolyPro is a premium-quality, ready-to-use pavement coating composed of refined coal tar that is fortified with rubber prior to emulsification. In addition, Neyra PolyPro contains a unique surfactant formulation which allows greater compatibility with asphalt surfaces.
ULTIMATE PROTECTION
The high solids, polymer modified formula provides increased resistance to oil, gasoline and chemicals.
MAXIMUM DURABILITY
You can expect up to three times the wear of other pavement coatings.
EASTY TO USE
Neyra PolyPro comes in a ready-to-use formula.
SAFER & EASIER TO CLEAN
Neyra PolyPro creates a seamless, skid-resistant and even-textured surface.
RICH, BLACK "BRAND NEW" LOOK
PolyPro's tough, tight, waterproof seal is the longest lasting pavement coating.


To learn more, contact Neyra Industries at customerservice@neyra.com or 1-800-543-7077.