GuardTop
The Gold Standard in Asphalt Protection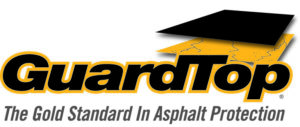 Designed for increased flexibility and durability, GuardTop Ultra is a high-performance mineral and fiber reinforced asphalt sealcoat formulated with specially designed polymers for improved adhesion, performance and longevity.
Established in 1983, GuardTop sealcoat products have been and continue to be some of the best in the industry for appearance, performance and sustainability. It provides superior preservation, protection and beautification of pavements.
ENVIRONMENTALY FRIENDLY
INCREASED DURABILITY
HOLDS ADDITIONAL AGGREGATE
LONGER LIFESPAN
RICH, MATTE BLACK FINISH
To learn more, contact Neyra Industries at customerservice@neyra.com or 1-800-543-7077.